The Best Heating Systems for your Business
October 19 2022by Maximum Climate Control
There are many different ways to bring warmth to your business – from underfloor heating, gas central heating, air conditioning units, solar heating and air source heat pumps. But most importantly, which central heating system is the most effective for your business and helps you to cut running energy costs?  
If you are looking to improve the efficiency within your building and reduce energy bills, then it may be time to look at the best heating system best suited to your business's requirements. At Maximum Climate Control we are experts in supplying efficient heating systems and are here to help talk you through the best heating systems for your business. 
The Best Commercial Heating Systems 
Installing a commercial heating system is not only important to ensure employees remain comfortable on an everyday basis, but they also improve indoor air quality boosting employee health. Energy-efficient heating systems such as HVAC (Heating, Ventilation and Air Conditioning) are one of the most cost-effective heating systems that businesses use as they require very little maintenance and are operated easily at a press of a button. 
The Best Heating Systems for Offices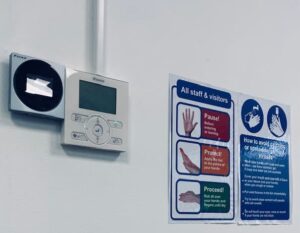 Wall Mounted Air Conditioning Units and Ceiling Mounted Air Conditioning Units are one of the most popular forms of heating systems for offices as they require very little maintenance due to their auto-cleaning function. 
Wall and Ceiling Mounted Air Conditioning units are most popular for their size, versailitiy, heat output, easy operation, reduced maintenance and fast installation. Wall or Ceiling Mounted heating and cooling systems can be located in various places throughout an office, which is ideal if you have large wall space or are looking to keep your heating system out of sight. 
As well as working as a heating system, Ceiling Mounted Air Conditioning units deliver a 360° air discharge to ensure all workers receive airflow at a hot or cold temperature. Creating a comfortable working environment for employees can help to enhance their productivity levels as well as improve air quality by filtering out dust and allergens.
Learn more about installing an Air Conditioning Unit for your Office.
The Best Heating Systems for Hotels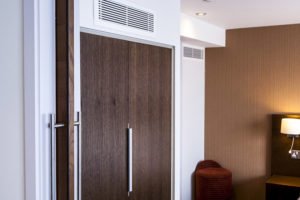 When searching for the best heating system for your hotel or Airbnb it's important to first establish a customer's needs. A quiet, easily operated and efficient heating system can have a huge effect on the customer's experience. After all, a hotel is no use if guests can't receive a comfortable night's sleep.
Air Source Heating is an ideal heating system for hotels as they are easily controlled, comes with a long lifespan and works as an air conditioning unit, projecting hot or cold air. They are highly efficient to install and run without requiring any ductwork, making the installation within various bedrooms an easy process. 
Unlike most heating systems, Air Source Heating is a great addition to existing heating systems. If a room is too cold or hot, guests can control the temperature in their room without disrupting the main existing heating system throughout the building.
Check out our recent installation of Heat Recovery Systems and Ducted Air Conditioning Units here at The Holiday Inn, Wembley Stadium Park. 
The Best Heating Systems for Restaurants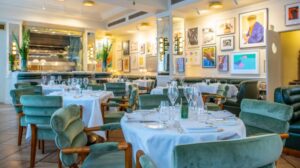 To provide guests with an outstanding experience within your restaurant, you will want to ensure they remain comfortable and that you have access to temperature control. Not only diners, but staff members will appreciate working and dining in a comfortable environment despite the weather conditions. 
To keep your guests and staff comfortable throughout various weather conditions we would recommend installing a VRF System, Wall Mounted or Ceiling Mounted Air Conditioning Units. Not only can Air Condioiting units keep your guests cool throughout the warmer months, but they also work as an energy-efficient heating system.
Wall and Ceiling mounted units allow you to easily hide or display your heating system to match the aesthetics of your restaurant without taking up valuable space, ensuring guests are not distracted from the decor of your restaurant. 
Yet if you are looking to install a heating system within your restaurant and your establishment is designed with high ceilings, then VRF Systems are ideal as they work as an innovative heat recovery system and can project air flow from as high as 5.5 meters.
Check out our recent installation of VRF/ VRV Heat Recovery and Daikin Heat Recovery Ventilation systems here at Langans Brasserie Restaurant in London.
Choosing the Best Heating Systems for your Business
With so many heating options available, it can be easy to get overwhelmed whilst understanding the best heating system for you. But before weighing up your options it's important to first consider the requirements of your business, are you looking to cut energy bills? Become more energy efficient? Or even improve employee/customer comfort?  
Once you have established your business's needs you will have a better understanding of the best heating systems and which is the most effective for you. 
Our Heating Systems at Maximum Climate Control 
At Maximum Climate Control we have supplied and installed numerous amount of heating systems for businesses across the South of England. As well as offering a range of modern HVAC systems, our team of experts are on hand to understand the requirements of your office, restaurant or hotel to provide your business with an energy-efficient heating solution. 
To begin your project with installing a Heating System for your business, get in touch today and a member of our experienced qualified engineers will be available to help. 
Share this article