Langan's Brasserie, Mayfair London
March 01 2022by Maximum Climate Control
Maximum Climate Control recently completed an installation in Langan's Brasserie Restaurant in Mayfair London. The customer was looking to refurbish their old famous restaurant, Langan's Brasserie which was built and opened in 1976 by Peter Langan and Micahel Cane.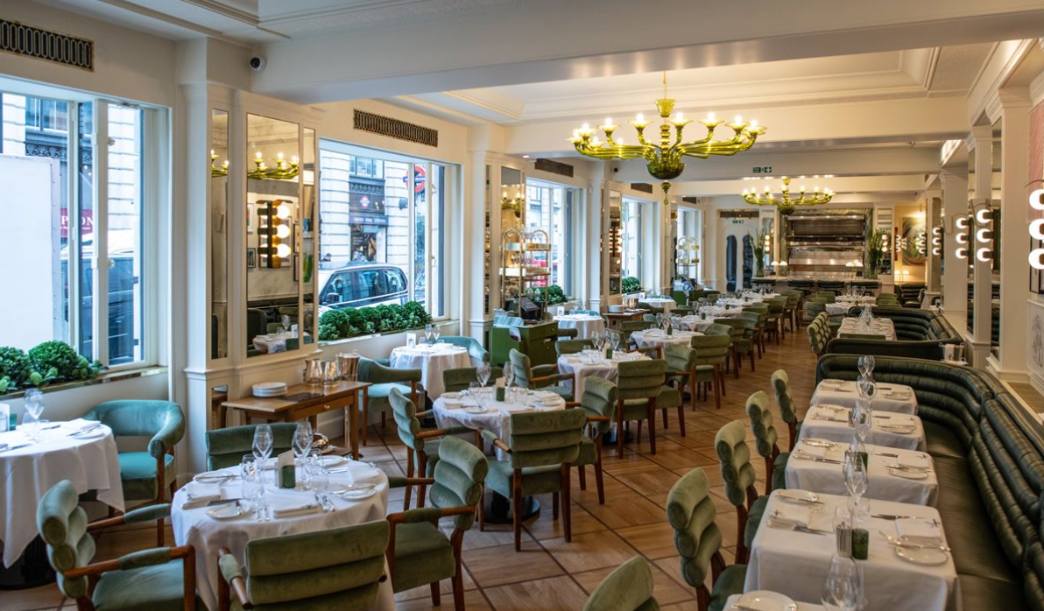 How did we help?
Maximum designed and installed Daikin VRV Heat Recovery AC heating and cooling systems as well as Daikin Heat Recovery Ventilation systems, with new kitchen extract and supply systems in the kitchens to meet the restaurant's new design and function at a cost-effective price to meet the clients budget.
Maximum Climate Control designed a Daikin VRV Heat Recovery system with ducted concealed flooring and ceiling mounted fan coils to operate efficiently and quietly but not to be seen or visible, with use of linear grilles to distribute the conditioned air throughout the two floors of the restaurant. The Daikin Heat Recovery Ventilation system was designed by Maximum with the same approach, so as to be unobtrusive and quiet but to do the job efficiently in keeping the two floors of covers comfortable in their environment.
The kitchens were refurbished and since the kitchen extract and supply systems had not really been fully refurbished since 1976 they needed to be upgraded to meet modern high-end restaurants requirements. We fitted new carbon filters and electrostatic air cleaners to remove the smells of a modern kitchen from being thrown out into the London skies.
This project was started at the beginning of August 2021 and was completed in mid-November as requested by the client to open in time for the Christmas season.
Our team removed and reclaimed the refrigerant out of the old AC and refrigeration systems to meet F Gas legislation, we then removed all of the old ductwork for the large old style AC systems and ventilation systems on the 2 floor of restaurants, the basement kitchen areas and back of house areas.
The old AC and Ventilation parts were removed from the site by Maximum Climate Control and, where possible, recycled to meet our environmental policy and to help lower not only our carbon footprint but also the customers.
For safety reasons, the site was shut down in order to carry out the work as this was a major refurbishment with the goal to reopen to the public in November.
The Process
Nearly finished with grilles to distribute the conditioned air.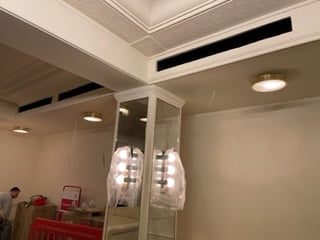 Floor standing built into the walls fan coils.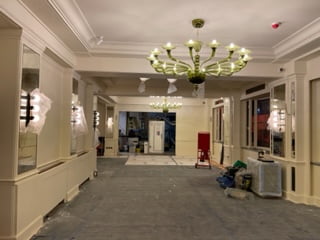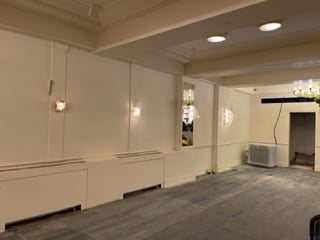 Basement kitchen AC.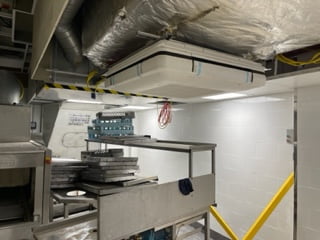 Kitchen extract with new cooker hoods.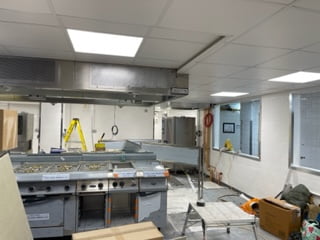 The AC units before they were built into the walls.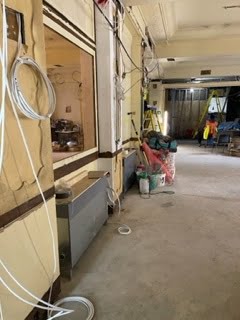 If your business requires a new HVAC system or your Heat Recovery Ventilation System needs updating, our team are on hand to help ensure you get the best products and more effective system to suit your business.
Share this article