R22 Replacements
November 14 2019by Maximum Climate Control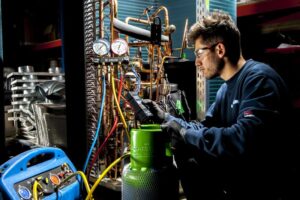 R22 replacement is a cheaper alternative to replacing the entire system, as you only need to replace the outside unit (condenser). In some cases, depending on the manufacturer and type of unit, you may need to replace the indoor units but not the interconnecting pipework. This upgraded system will then run on the newer, more environmentally friendly gases.
If your R22 system has been maintained and is still working correctly you can certainly benefit by pre-emptively changing to a new compliant R410A replacement system, these units can be changed in certain circumstances using the old refrigerant pipework, after pressure testing and cleaning of the internal surfaces. Not only will this changeover be at a lower cost than a total new system replacement, but you will also benefit from the far lower running costs of an inverter-driven system.
Established in 1997, Maximum specialise in the design, installation, service and maintenance of HVAC systems (heating, ventilation and air conditioning), ranging from small heating, cooling and ventilation systems to VRV / VRF systems & heat recovery systems. If you're interested in our services, be sure to get in touch with our specialists today!
Share this article