Eynsham Hall, Oxfordshire
June 03 2021by Maximum Climate Control
Maximum Climate Control are in the process of renovating air conditioning equipment at Eynsham Hall in Witney, Oxfordshire. Work began in May 2021 installing new Daikin VRV heat recovery and air conditioning equipment.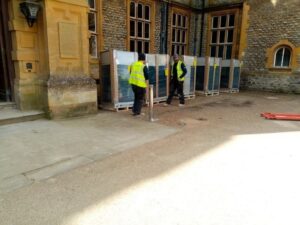 The units were delivered to the site before installation to ensure a smooth process.



A crane was then hired to install the units onto the roof, on top of a platform designed by our engineers.



If you're looking for experienced engineers to design and install air conditioning units to your business, get in touch with our team who will be happy to talk through the details of your project and provide a solution.
Share this article