Eynsham Hall Hotel, Oxfordshire – Refurbishment
March 23 2023by Maximum Climate Control
Replacement Kitchen Extract and Supply Systems
We have just completed our new and replacement kitchen extract and supply systems at the Eynsham Hall Hotel in Oxfordshire, with new Kitchens in the Basement main Kitchen, Pastry kitchen & pot wash area, Ground floor Dim sum kitchen and Brasserie kitchen and Members kitchens. All the areas have Halton Polustop supply and extract systems, as well as Absolair supply and extract systems due to availability issues on Halton equipment.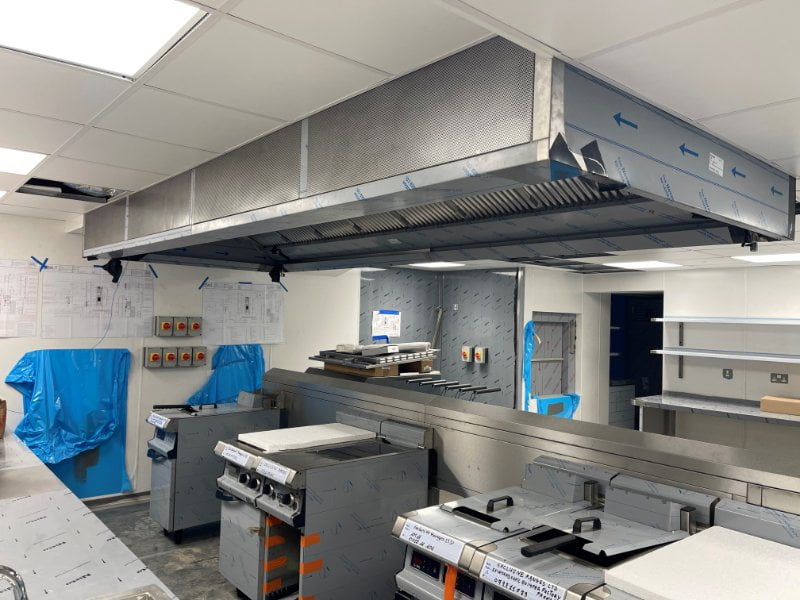 All 5 x supply and 5 x extract systems have been flat packed and re-built on site due to space constraints by both manufacturers and are due as we speak to be commissioned by each manufacturer for operation by the new chefs. All the systems have been designed by the experts at Maximum Climate Control and built to our specifications so that it meets the individual needs of each kitchen. The issue of no high level discharge of kitchen extract air in a listed building, has made the design a challenge for the Maximum team to say the least.
On-site at Eynsham Hall Hotel
Due to the nature of a beautiful country 5 star hotel, with amazing ground level bedrooms all around the kitchen areas as well as kitchen gardens and a Glass house dining room, any kitchen extract discharge must be clean and odour free in such a sensitive area. Knowing this information, the team at Maximum have chosen to work with Halton and also Absolair on odour control with the use of pre-filters, carbon filters as well as UV treatment to breakdown the grease particles so the air that is discharged is clean and fresh and no guests will ever know there is a hive of activity in the kitchens around the estate.


The kitchens all have different temperature requirements, so Pastry kitchens have Daikin Air Conditioning equipment to lower the temperature between 16 – 20 degrees, so as to keep cream from melting and sable dough from leaking oil. Other kitchens and areas like the pot wash, require moisture removal and a comfortable 21 degrees to keep the heat down from the constant dishwasher doors opening. All the other Kitchens require a myriad of temperatures in different areas to suit their needs and use and all these are controlled by a range of Daikin R32 inverter systems to maintain.
We have also temperature controlled the white wine and red wine cellars as well as the beer cellar with Panasonic low temperature split systems on R32 inverter controlled systems, couple this with temperature controls on the supply AHU from Halton and Absolaire with LPHW coils in all the kitchens as designed and installed as well as maintained by the Maximum Team.



Kitchen Extraction Systems
If you're looking for experienced ventilation engineers to design and install extract and supply units to your kitchen, get in touch with our team who will be happy to talk through the details of your project and provide a solution.
Share this article